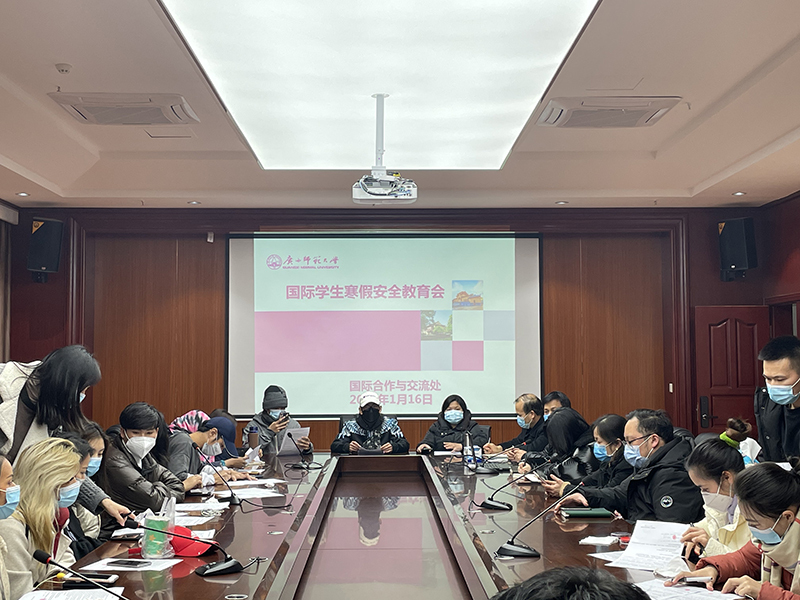 广西师范大学国际学生2021年寒假放假通知及安全告知书

Safety Notice for 2021 Winter Vacation of GXNU
全体国际学生:
Dear International students,
我校寒假放假时间为2021年1月16日至3月2日。现将寒假放假信息及有关安排通知如下:
The winter vacation for this semester will start from January 16, 2021 to March 2, 2021. The information and safety notice concerning the 2021 winter vacation are as follows.
1.请自觉遵守中国法律法规、学校规定和公寓管理规定。
Students must abide by Chinese laws, university regulations and dormitory rules.
2.疫情防控尚未结束,请大家做好个人防护,非必要不外出,不要在校内多人聚集,未经许可不能离开桂林市。如有特殊原因必须离开桂林市的,需提前报告国际学生管理科老师并在"校境通"上提交请假申请,获批准后方可离开。凡到过疫情中高风险地区的学生,返校前需要自费做核酸检测,检测结果正常方能返校。
Since it's still in the epidemic prevention and control period, please pay attention to personal protection, do not gather in group on-campus and minimize outdoor activities. Students are not allowed to leave Guilin city if unnecessary. In case of emergency, students are required to ask for leave to teachers of Office of International Students and fill in the application for leave on Xiaojingtong, Wechat official account. With permission of the teachers, students could leave Guilin. Students who have been to medium or high-risk areas in China are required to take nucleic acid test at students' own expense before returning to the university.
3.严禁在校园内宣传宗教,严禁在校园内举办或参加宗教聚会活动,在校外只能在教堂从事宗教活动。
Do not do any religious promotion, and host or involve in religious activities on campus. Students could attend religious events in churches outside campus.
4.请注意用电安全。不要私接电源、水源、电线或违章使用大功率电器设备,严禁在宿舍使用电磁炉、电饭锅等加热电器。请不要在宿舍使用明火及存储易燃、易爆物品。如发现异常情况,请第一时间与国教中心前台联系。
Please use electricity in a safe and legal way. Please don't install power source, water source, and electric wire without permission. High-power electrical equipment is forbidden in dormitory. Electric heating appliances including electric kettle, electric cup, electric heater, electric iron, and etc. shall not be used without any supervision. Please don't use open flame or store the appliances including gas cooker, kerosene lamp, spirit stove, candle, and etc. in dormitory.
5.外来人员进入宿舍需在国教中心前台或保安室登记,禁止擅自留宿校外人员,禁止在学生宿舍内留宿异性。
All visitors should register at the reception of International Education Center ② or security office when entering the building. Students are not allowed to keep visitors overnight in the dormitory and it is forbidden to stay overnight in the room with the opposite sex.
6.请自觉遵守作息制度,23:00以前回到宿舍,24:00点以后不再外出,不得无故晚归或夜不归宿。
Students shall follow the school work-rest schedule strictly. Students shall be back to dormitory before 23:00 and not go out after 24:00. Without specific reason students must not stay late out or stay out all night.
7.如有发热、咳嗽、乏力等症状,请及时告诉国际学生管理科老师。
If you have the symptoms as fever, cough, fatigue, etc, please inform teachers of Office of International Students as soon as the case happens to you.
8.寒假期间,所有在华国际学生需每天在"校境通"上进行日常考勤打卡。
During winter vacation, all international students who are in China shall clock in on Xiaojingtong every day.
9.自觉遵守交通法规,校园内禁止骑电瓶车,严禁无证驾驶摩托车或汽车。
Students should observe the traffic regulations. It is prohibited to drive scooters on campus and drive motorcycles and cars without driving license.
预祝各位同学寒假平安愉快!
Hope all of you enjoy winter vacation!
急用常用电话(Useful Emergency Call):
1.火警(Fire alarm) 119 2.报警(Alarm)110 3.医疗急救(Medical First Aid)120
4.国际文化教育学院办公室(Office of College of International Culture and Education)5857127
2021.1.16

广西师范大学国际学生2021年寒假通知及安全告知书2021116.docx