Delegation led by Secretary of CPC GXNU Committee Deng Jun Visited US and UK
From June 16th to 22nd, Secretary of CPC GXNU Committee Deng Jun led a delegation to visit six universities and institutions in the United States and the United Kingdom, and specially visited the overseas branches of GXNU Publishing House.
In Suffolk, England, the delegation came to the ACC Publishing Group, an overseas branch of GXNU Publishing House, to hear reports on the work of the company's related businesses. Mr. James Smith, CEO of ACC UK, introduced the British company's publishing specialties, business objectives, personnel composition, and interaction with domestic teams under the integrated strategy.
In the American company of ACC Publishing Group in New York, Secretary Deng Jun and the delegation members heard the report by Mr. John Brancati, General Manager of ACC America, on the composition of personnel, distribution channels, sales status, marketing promotion, etc.
Deng Jun showed his appreciation for the excellent results achieved by ACC Publishing Group after completing the merger and acquisition three years ago, and expressed his gratitude to the staff of the overseas companies. He called for strengthening standardized operations and standardized management, effectively preventing potential risks, increasing international publishing efforts, and making ACC and Images Publishing Group the world's top art and design book publishing and distribution group.
Visiting ACC Publishing Group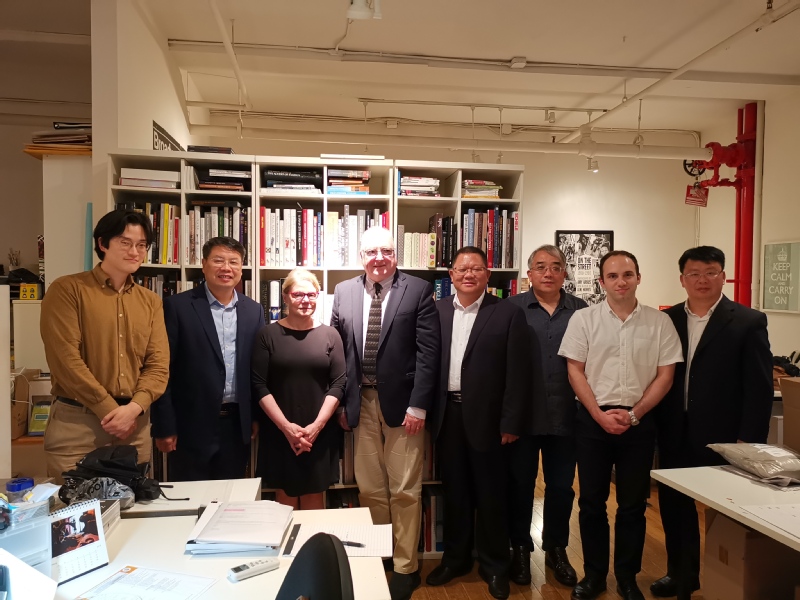 Visiting ACC in US
Contact Us
08:00-12:00 | 14:30-17:30
+86-773-5821163
+86-773-5850305
Guangxi Normal University,15 Yucai Rd,Guilin,Guangxi,P.R.China 541004
Suggest a story
Do you have some great news to share?Email us at
admissn@mailbox.gxnu.edu.cn