International Students of GXNU Cheer for China in Fighting Against Epidemic
The outbreak of the COVID-19 Epidemic has not only touched the hearts of Chinese people everywhere, but has also garnered support from foreign friends. Recently, international students of GXNU and overseas alumni have also paid close attention to the development of the COVID-19 epidemic. They showcased their support for Wuhan and China in their own ways.
During the COVID-19 outbreak, after learning about the many moving stories of front-line Chinese medical staff and healthcare providers in the battle against the epidemic, international students from Vietnam, Thailand, Indonesia, Laos, Cambodia, East Timor, Mongolia, Pakistan, and Switzerland all sent heartwarming and moving videos expressing their love for, and best wishes to, China in fighting against this epidemic.
Alumnus Lai Huiping, from Vietnam, organized a company's employees to cheer for Wuhan and China.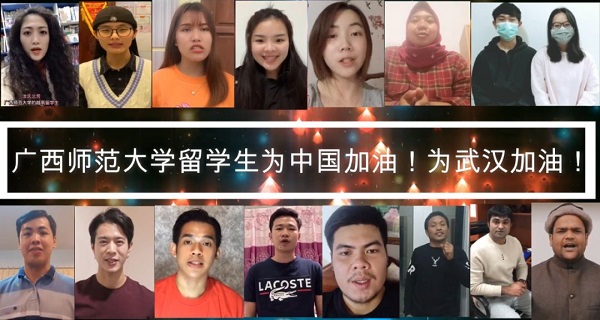 International Students from Guangxi Normal University are Supporting for Wuhan: Stay Strong and Be Brave!
Contact Us
I. Admission Office

Zhang Xi, Section Chief of International Admissions
Responsible for the planning, promotion, organization and coordination of admissions and cooperation projects.


Xie Hailing, Staff
Kim Dongsan, Staff
Responsible for study consultations, admissions, and materials submitted for approval.

Tel:0086-773-5821163(International) 0773-5821163(Domestic)
Fax:0086-773-5850305(International) 0773-5850305(Domestic)
Email:admissn@mailbox.gxnu.edu.cn


II. International Student Management Section
III. Foreign Affairs Section

Xie Xiaotang, Teacher Affairs Secretary
Responsible for recruitment, visa application and management of international Staff.

Tel: 0086-773-5857127(International) 0773-5857127(Domestic)
Email:gxsdwsk@gxnu. edu
Suggest a story
Do you have some great news to share?Email us at
admissn@mailbox.gxnu.edu.cn