Event for International Chinese Language Day in Guangxi Normal University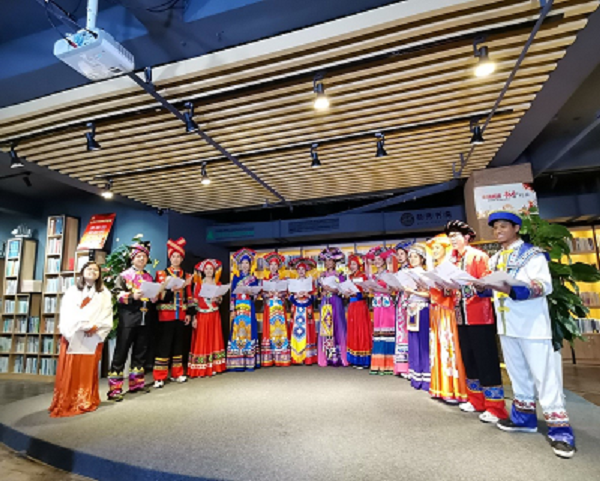 April 20th is the United NationsChinese Language Day. Guangxi Normal University organized a celebrating event atDuxiu Bookstore with the theme of "Let the World Know about China by Reading",which sought to improve students' understanding of Chinese traditional culturefor the purpose of promoting Chinese traditional culture. Students from China,Vietnam, Thailand, Laos, Cambodia, Pakistan, Indonesia, Malaysia and East Timorparticipated in the event.
Dressed in Chinese beautiful ethniccostumes, students experienced and spread Chinese traditional culture through"The Walking Book Lists" and "Reading Poem in Chinese Language". The events areheld to deepen the friendship between Chinese and foreign students in GuangxiNormal University, improve international students' Chinese proficiency andunderstand the connotation of Chinese culture, and enhance the identity ofChinese and foreign students to Chinese culture.
Contact Us
I. Admission Office

Zhang Xi, Section Chief of International Admissions
Responsible for the planning, promotion, organization and coordination of admissions and cooperation projects.


Liu Yaqiong, Staff
Kim Dongsan, Staff
Responsible for study consultations, admissions, and materials submitted for approval.

Tel:0086-773-5821163(International) 0773-5821163(Domestic)
Fax:0086-773-5850305(International) 0773-5850305(Domestic)
Email:admissn@gxnu.edu.cn

II. International Student Management Section
III. Foreign Affairs Section

Xie Xiaotang, Teacher Affairs Secretary
Responsible for recruitment, visa application and management of international Staff.

Tel: 0086-773-5857127(International) 0773-5857127(Domestic)
Email:gxsdwsk@gxnu. edu
Suggest a story
Do you have some great news to share?Email us at
admissn@mailbox.gxnu.edu.cn