Enchanting Guilin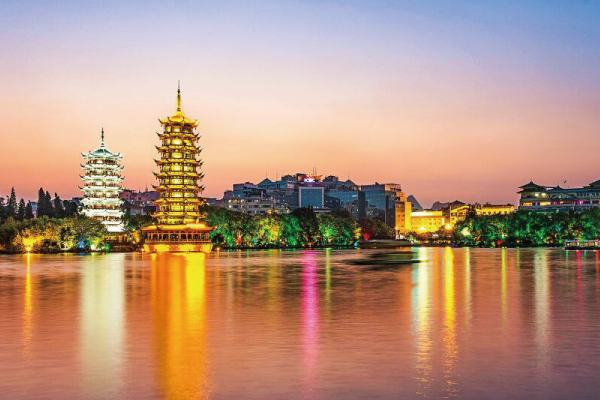 Guilin is known as a world famous tourist destination as well as a city of national, historical, and cultural significance. Since ancient times, Guilin has been known to Chinese people worldwide as "the most beautiful place under the heavens." Within the city, the beauty of the natural landscape and the depth of historical culture add radiance and beauty to each other. Guilin's fabulous landscape is the based on limestone karst formations that formed hundreds of millions of years ago when Guilin was under the ocean. This landscape is characterized by green mountains, sparkling waters, gorgeous caves and statuesque monoliths, which have lured countless poets to express their love for Guilin in poem and mesmerized a great many tourists for thousands of years. The moderate subtropical climate in Guilin presents a winter that never goes below freezing and summers full of sunshine. The integration of the magnificently beautiful scenery, unique minority folk customs, and historical culture have formed the unique urban landscape that is Guilin.
Top Ten Sites of Guilin:
Contact Us
I. Admission Office

Zhang Xi, Section Chief of International Admissions
Responsible for the planning, promotion, organization and coordination of admissions and cooperation projects.


Liu Yaqiong, Staff
Kim Dongsan, Staff
Responsible for study consultations, admissions, and materials submitted for approval.

Tel:0086-773-5821163(International) 0773-5821163(Domestic)
Fax:0086-773-5850305(International) 0773-5850305(Domestic)
Email:admissn@gxnu.edu.cn

II. International Student Management Section
III. Foreign Affairs Section

Xie Xiaotang, Teacher Affairs Secretary
Responsible for recruitment, visa application and management of international Staff.

Tel: 0086-773-5857127(International) 0773-5857127(Domestic)
Email:gxsdwsk@gxnu. edu